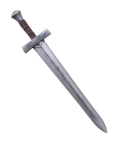 Name: Norrick short sword
Manufacturer: Mytholon
Brand: BattleStandard
Material: Foam, fiberglass core, leather
Total length: 71.0cm
Blade length: 53.0cm
Blade width: 6.5cm (widest)
Guard width: 15.5cm
Balance point: 42.0cm (from tip)
Grip length: 12.0cm
Grip width: 3.0cm
Pommel length: 3.5cm
Weight: 295g
Colour: Steel grey, brown
Retail price: €29.90
The Norrick short sword from the Battle Standard series is made by German Mytholon, and is a light and soft sword. You must really swing hard if it is to hurt once it hits, which makes this sword well suited for junior players. The sword is not entirely without issues though.
It's moulded foam, but the two we tested had different grip sizes. A problem that may arise if demoulding too soon so it rises afterwards. One grip also had what felt like a burst bubble beneath the leather. The grip is round, which in it self makes aligning the blade difficult unless you look at it, and finally the grip is way too soft. This is without any doubt the softest grip we've experienced.
Our hard hit test managed to loosen the connection between the foam and core on one blade, but this was with hits of a force that does not belong under normal use.
Watch our test and review of the Norrick sword here:

Read more about the Battle Standard brand or Mytholon.
Article created: 2020-02-27 20:45:05
Last edited: 2020-03-04 18:12:47