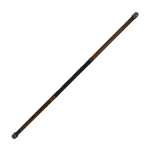 Note: Forgotten Dreams Design-studio is shut down.
Name: Quarterstaff
Manufacturer: Forgotten Dreams Design-studio
Brand: Mercenary 2nd Edition
Materials: Poly-Ethylene foam, latex, clear lacquer
Length: 180cm
Widest part: 4.0cm
Weight: 850g
Colour: Rosewood, steel
Retail price: €174.99
This quarterstaff has a center-grip and is very flexible. It's not thrust-safe, and the decorative knobs at the ends will end up dislocated if you strike with them - we would not be surprised if they fell off with frequent use or one unfortunate hit. The foam is both soft and light, which is well suited for junior players, bur the fiberglass core is too flexible for this weapon to be used as a medieval quarterstaff. The flex lends itself more to a east Asian fighting style but we will not recommend it for this - if you try to stop a strike, the staff will function as a whip. The weapon is painted so it resembles wood.
See test and review here:

Article created: 2020-02-24 15:37:47
Last edited: 2020-03-04 12:24:31