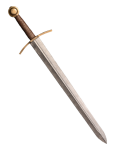 Name: Type 1 Short sword
Manufacturer: Wyvern Crafts
Brand: Replica : Authentic Line
Retailer: wyvern-larpshop.de, mytholon.com
Material: Polyurethane foam, Polyurethane rubber (latex free)
Total length: 89.0cm
Blade length: 69.5cm
Blade width: 5.0cm (widest)
Guard width: 20.0cm
Balance point: 55.0cm (from tip)
Grip length: 13.0cm
Pommel length: 5.0cm
Weight: Weighed at 395g
Colour: Brass, steel grey, brown

This sword is made by Wyvern Crafts in Germany. We recommend it for senior players who like historical appearance of their weapons. It grips well, is accurate, well balanced and is constructed such the core ensures that you're not swinging a spring around. Wyvern also makes a fitted scabbard in hard leather with swordbelt. The sword is recommended for players of 15 years or older, but is safe enough to use against younger players.
In the video review below you'll see both the old and the new models get damaged during test with very hard hits. As a lot of the work in the hilt itself, Wyvern offers a service where you can get the blade replaced.
See test and review here:

Article created: 2020-02-24 15:33:42
Last edited: 2020-03-04 12:51:27