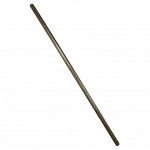 Name: Wooden staff
Manufacturer: Calimacil
Brand: Squire Collection
Material: Calimacil foam
Length: 152cm
Widest part: 4.0cm
Weight: 630g
Colour: Brown
Retail price: €89.90
The staff is short but robust and reliable. It's not this that bends if you fight against another staff - see our video below to see what we mean. There's approximately 5cm from core to end, but the tip-guard can be felt about ½cm from the end, and if thrusting with the staff the tip-guard and end will bend to the side so the full power from the core hits the opponent. The foam is dense and hard, but not remarkably heavy - however a fast strike will deliver a noticably hit. The staff's finish is dark brown with groves to indicate a wood structure. Where the lenght might tempt junior players, it can be difficult to handle safely. We recommend a minimum age of 15 - you must have sufficient strength to controll the mass of the weapon safely.
See test and review here:

Read further on Calimacil here.
Article created: 2020-02-24 15:19:58
Last edited: 2020-03-04 00:19:01